Tigerair flies to Legazpi and Puerto Princesa
Mar 22, 2015
A PHP Error was encountered
Severity: 8192
Message: preg_replace(): The /e modifier is deprecated, use preg_replace_callback instead
Filename: smarty/Smarty_Compiler.class.php
Line Number: 0
A PHP Error was encountered
Severity: 8192
Message: preg_replace(): The /e modifier is deprecated, use preg_replace_callback instead
Filename: smarty/Smarty_Compiler.class.php
Line Number: 0
MANILA, Philippines - Tigerair Philippines will launch daily flights from Manila to Legazpi and five times weekly flights from Cebu to Puerto Princesa beginning March 29.
Passengers may avail of Tigerair Philippines' lowest year-round fares between Manila and Legazpi for as low as P888, and from Cebu to Puerto Princesa starting at P1,288.
The airline's flights from Manila to Legazpi will depart at 10:30 a.m. and arrive in Legazpi at 11:35a.m. The return flight will depart Legazpi at 12:15 p.m. and arrive in Manila at 1:20 p.m.
Flights from Cebu to Princesa will depart at 11:30 a.m. and arrive in Puerto Princesa at 12:45 p.m. The return flight will depart Puerto Princesa at 1:25 p.m. and arrive in Cebu at 2:40 p.m.
"We are happy to announce our new flights to some of the most beautiful destinations in the Philippines – Legazpi and Puerto Princesa. We look forward to offering low fares to even more destinations," said Leilani de Leon, chief of legal and corporate affairs.
With these new routes, Tigerair Philippines now flies to 14 destinations: Bacolod, Cagayan de Oro, Clark, Cebu, General Santos, Iloilo, Kalibo, Legazpi, Manila, Roxas, Puerto Princesa, Tacloban, Tagbilaran and Hong Kong.
Lifestyle Feature - Travel ( Article MRec ), pagematch: 1, sectionmatch: 1
For bookings, log on to www.cebupacificair.com
Read more »
Seeing blue, green and Crimson in Cebu
Mar 22, 2015
A PHP Error was encountered
Severity: 8192
Message: preg_replace(): The /e modifier is deprecated, use preg_replace_callback instead
Filename: smarty/Smarty_Compiler.class.php
Line Number: 0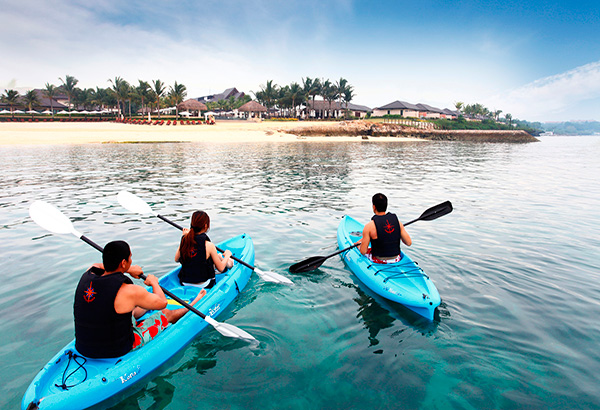 Kayaking is best experienced at the Hilutangan Channel, the ocean view of the resort.
When you are ready to pursue your dreams, you will find them. Life is made up of many promises that it keeps for those worthy of seeking them. Welcome to Crimson Resort & Spa Mactan in Cebu, your paradise in the Queen City of the South. Here, dreams are pursued in a paradisiacal setting.
My visit to Crimson in Cebu was long overdue but like most things in life, the wait was well worth it. Travels like this forge memories that last a lifetime. This is the magic of Crimson whose touch is that of an ethereal slice of heaven.
From the time we were met at the Cebu airport, we already felt the resort's hospitality. Delightfully refreshing mango-orange-pomegranate jello shots were served to us inside the car as we refreshed ourselves with freezing-cold towels.
The drive to the resort only lasted 15 minutes. As we entered the modern Balinese-inspired property lined with immaculate white bougainvilleas, a sense of excitement embraced my best friend Bum Tenorio, ace diver Yvette Lee and me.
We were greeted with tall glasses of the resort's ice-cold welcome drink of lemongrass, cucumber and peppermint. Located in one of the world's finest beaches, Crimson is a paradise in the tropics that is surrounded by beauty and glory of this serene sanctuary as "gem golf carts" transported us to our well-appointed ocean villa. The well-manicured lawn created part of the ambiance that prevailed like a tropical woven fabric. Glorious water everywhere was a refreshing sight and even more when one took a plunge to experience it. With its 250 rooms, 40 of which are villas with private plunge pools, and Aum spa, Azure Beach Club, Sports bar, jogging trail and more, one will bask in an atmosphere that is alluring and relaxing.
The resort is replete with Cebuano architecture combined with Balinese-inspired furnishings. There exists a synergy of eco-tecture, bespoke elegance and rustic charm. Our villa has well-appointed furnishings from the living room to the very cozy bedroom with four-poster bed. A highlight of this villa is our own private plunge pool overlooking the bluer-than-blue Hilutungan Channel.
Lifestyle Feature - Travel ( Article MRec ), pagematch: 1, sectionmatch: 1
We fell in love with our villa and raced to the plunge pool. Via room service, we ordered prosciutto rucola pizza, kalbi chim (Korean beef stew with shitake mushroom and sesame seeds) and chargrilled lamb chop with mint jelly. The desserts provided that sweet ending to our meal and the fruit juices added an even more refreshing taste to our discriminating palate. We had its almond financier with pistachio cream, durian gianduja dome and Crimson's buko halo-halo. It was truly a refreshing and heavenly gastronomic activity.
At the resort, active sports can be played with your group or other resort guests. By sundown, have cocktails at the Azure Beach Club's Rock Bar for the resort's "Liquid Libation" that includes modern mixed drinks, classic cocktails, cold ales and brews. It also has a delectable menu for epicurean specialties. The cuisine here is for serious meat lovers. Its grills are meant for sharing, the porterhouse steak and tomahawk premium Angus hover at around one kilo per serving and it also has two tandoori ovens for lamb, chicken or fish. Slices of salmon and wedges of lemon and the tandoori chicken were immaculately succulent. The desserts are out of the ordinary — such as grilled pineapple with black sticky rice and wood-oven mixed berries in a layered phylo crust served with passion fruit custard coconut ice cream.
The Azure Beach Club is certainly the "place to be" if you look for casual elegance. Contemporary vibes characterize this area with bespoke tastes. Nature's finest embraces this luxurious beach ambiance not just for sun worshipers but also for those who just want to have a drink and chill. Check out the amazing Rock Bar that is perched on a cliff overseeing the entire expanse of the ocean below. The drinks here have been devoted uniquely to provide you with fascinating tastes of innovative flavors. I personally favored the piña colada whose froth and candied coconut are truly treats you will come back for. While basking in these distinctive views, the DJ plays fabulous vibes to set the mood for serious partying.
The resort also offers water sports like beach soccer, water aerobics, rumba, parasailing, jet ski, banana ride and mermaid swimming! Would you believe you don mermaid outfits and swim merrily in the ocean? It was a treat like no other. For kids, there are activities like fish feeding, aqua games, scavenger hunts, treasure hunts and family sandcastle building.
Guests can also go island hopping and experience the bird sanctuary in Olango Island, a much-recommended activity. Hundreds of white birds greet you as they have made Olango their home. It is a magnificent experience to be out in sun, wind and sky with nature's finest creatures.
Do not miss a snorkeling expedition to the Hilutungan and Nalusuan Marine Sanctuaries. Despite the hundreds of snorkelers and divers who visit these sites every day, the coral reefs remain healthy with an abundance of reef fishes.
Seagrass beds, branching corals, massive table corals greeted us when we stuck our heads underwater. Batfish, damselfish, clownfish, butterflyfish were all present. The colorful coral-nibbling parrotfish also flitted around. It was good to see plenty of groupers, rabbit fish, fusiliers and emperor fish, which are all commercial food fish as these places allow them to breed and multiply.
Kudos to the local government units and the private sector for managing these eco-tourist sites in a way that allows tourists to view our magnificent underwater world but also provide a sustainable income for the community. These two marine tourism sites should serve as a model for other coastal barangays and municipalities because the sites prove that a live fish is worth more than a dead one.
Back on our spacious and immaculate banca, we enjoyed the contents of a picnic basket filled with an assortment of freshly made sandwiches, fruit and yummy brownies.
As if that wasn't enough, we had a nightcap at the Score Sports Bar with a late night happy hour. Our singer in the group Bum Tenorio gamely sang Disney, Broadway and kundiman songs on the karaoke system to his heart's content while our group hummed along. It was definitely a night to remember.
Next morning, we headed for the Aum Spa, which presented us soothing and revivifying treatments. This 2,000-meter Zen sanctuary revitalizes the body, soul and mind with unique treatments that are specifically tailored for your preference. The spa utilizes traditional Filipino therapies that use local and endemic ingredients made from 100 percent medicinal herbs.
As Bum described his hilot massage: "The best in the world!"
Why wouldn't it be when the dexterous hands of the masseuse knead your weariness with utmost care, pampering your body further with hot pouches of herbs rolled in banana leaves. The dreamy scent ofdayap calamondin with a hint of citrus and orange blossoms welcomes you to this wonderful escape. The Asian-inspired façade made of wood with an orange glow from candles mesmerizes as it relaxes you.
Many thanks to Carmela Bocanegra whose gracious invitation led us to this glorious escape. She shared that Crimson Resort and Spa Mactan was named Global Winner for the category of Luxury Thalasso & Spa Resort at the 2014 World Luxury Awards held in South Africa. She said over 1,000 hotels from 145 countries were nominated to participate in this prestigious awards initiative. In 2013, the resort was named Country Winner for the Luxury Beach Resort category. The World Luxury Awards, established in 2006, recognizes the worldwide and legendary resorts and hotels with respect to overall service excellence. It is respected as the pinnacle of achievement for luxury hotels worldwide.
A staycation at Crimson Resort and Spa Mactan in Cebu is truly a treat to the senses. Check it out for yourself and you will understand why I say that those who seek their dream havens will find them at the resort. That's a promise.
Read more »